FSSAI CENTRAL LICENSE
The Food Safety and Standards Authority of India (FSSAI) is the apex regulatory body responsible for ensuring the safety, quality, and standardization of food products in India. It was established under the Food Safety and Standards Act, 2006, and operates under the Ministry of Health and Family Welfare. FSSAI's primary objective is to protect and promote public health by regulating and supervising food businesses across the country.
One of the critical functions of FSSAI is to issue licenses to food businesses based on their size, turnover, and the nature of their operations. The FSSAI central license is one such license category that applies to medium to large-sized food businesses with significant operations or a high turnover. It is required for food businesses that operate at the national level or have operations in more than one state.
KEY FEATURES OF FSSAI CENTRAL REGISTRATION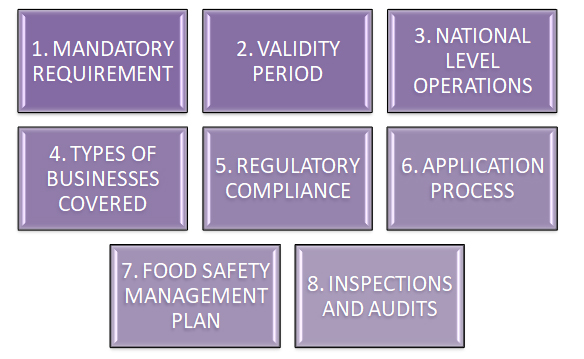 1. Mandatory Requirement: The FSSAI Central License is mandatory for food businesses that have an annual turnover exceeding a specified threshold, which is subject to change based on FSSAI regulations.
2. Validity Period: The central license is typically issued for a fixed period, and the food business must renew it before its expiration to continue their operations legally.
3. National Level Operations: The central license is applicable to food businesses that operate at the national level or have operations in more than one state.
4. Types of Businesses Covered: The central license is required for various types of food businesses, including food manufacturers, processors, packers, storage units, importers, and 100% export-oriented units (EOUs).
5. Regulatory Compliance: Obtaining the central license requires strict adherence to FSSAI's guidelines and regulations related to food safety, hygiene, labeling, packaging, and other quality standards.
6. Application Process: Businesses seeking the central license must submit a detailed application to the nearest FSSAI regional office. The application should include information about the business, food categories, turnover, food safety management plan, etc.
7. Food Safety Management Plan: Food businesses applying for the central license need to present a comprehensive food safety management plan, demonstrating how they ensure the safety and quality of their food products.
8. Inspections and Audits: FSSAI conducts regular inspections and audits of food businesses holding a central license to ensure ongoing compliance with food safety standards.
BENEFITS FSSAI CENTRAL LICENSE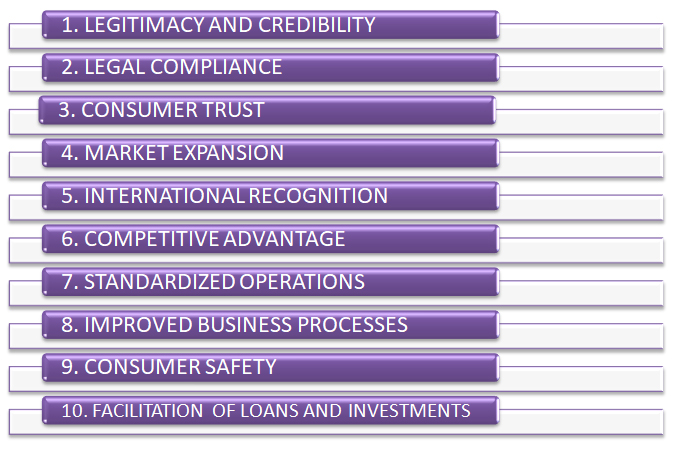 1. Legitimacy and Credibility: Holding an FSSAI Central License enhances the credibility and legitimacy of the food business. It assures consumers, retailers, and other stakeholders that the products meet the required food safety standards.
2. Legal Compliance: The license ensures that the food business operates legally and in accordance with the laws and regulations set by FSSAI. This helps in avoiding penalties, fines, or legal actions due to non-compliance.
3. Consumer Trust: FSSAI Central License indicates that the food products are manufactured, processed, and handled under strict quality and safety guidelines. This builds trust among consumers, leading to increased brand reputation and customer loyalty.
4. Market Expansion: With an FSSAI Central License, food businesses can expand their operations beyond state borders, tapping into a wider market and reaching a broader customer base.
5. International Recognition: For export-oriented food businesses, the central license serves as recognition of compliance with international food safety standards, improving their credibility in the global market.
6. Competitive Advantage: Having an FSSAI Central License gives a competitive edge over non-licensed food businesses. It can attract more business opportunities and collaborations with retailers and other food-related ventures.
7. Standardized Operations: The license requires adherence to food safety management practices, resulting in standardized and hygienic food processing, packaging, and storage procedures.
8. Improved Business Processes: The license necessitates the establishment of a proper food safety management plan, leading to better organization and efficiency in operations.
9. Consumer Safety: Compliance with FSSAI standards ensures that the food products are safe for consumption, reducing the risk of foodborne illnesses and related incidents.
10. Facilitation of Loans and Investments: Financial institutions and investors often prefer to support businesses with valid licenses, making it easier for licensed food businesses to secure loans and attract investments.
LIST OF DOCUMENTS REQUIRED FOR FSSAI CENTRAL LICENCE
The documents required for obtaining an FSSAI (Food Safety and Standards Authority of India) Central License may include the following. However, keep in mind that requirements and regulations may change over time, so it's always best to check the official FSSAI website or contact their local office for the most up-to-date information:
Form B - Completed and signed application form for a Central License.
Blueprint/layout plan of the processing unit (if applicable) indicating the dimensions and operation-wise area allocation.
List of Directors/Partners/Proprietor with address, contact details, and photo identification.
Name and list of equipment and machinery used with their number, installed capacity, and horsepower.
Photo identification and address proof of the applicant (e.g., Aadhar card, passport, voter ID, etc.).
Proof of possession of premises (e.g., rent agreement, electricity bill, etc.).
Partnership Deed/Affidavit of Proprietorship/Memorandum & Articles of Association for companies.
Copy of certificate obtained under the Coop Act – 1861/Multistate Coop Act – 2002 in case of Cooperatives.
Food Safety Management System Plan or Certificate (if any).
Source of milk or procurement plan for milk-based units (dairy processing units).
NOC from the local municipality or the concerned authority.
Certificate from the Ministry of Tourism (for hotels).
Certificate of incorporation (for companies).
Analysis report (Chemical & Bacteriological) of water to be used as an ingredient in food from a recognized/public health laboratory to confirm pot ability.
NOC from the manufacturer (in case of repackers and relabellers).
GENERAL PROCESS OF OBTAINING AN FSSAI CENTRAL LICENSE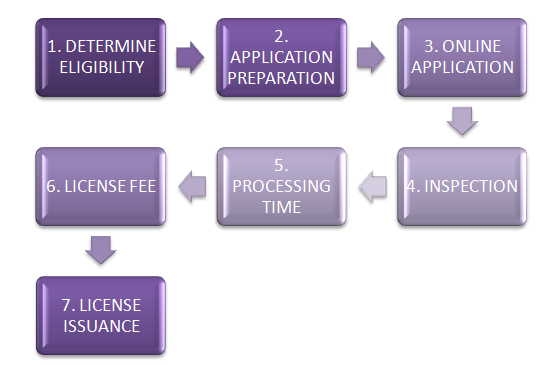 1. Determine eligibility: Ensure that your food business requires a Central License. Food businesses with a large-scale operation or those involved in specific categories, such as dairy processing units, meat processing units, food processing units, etc., usually need a Central License.
2. Application preparation: Gather all the necessary documents and information required for the application. The list of documents may vary based on the type of food business, but generally, it includes:
Form B (completed and signed)
Blueprint/layout plan of the processing unit
List of directors/partners/proprietor with addresses and contact details
Food safety management system plan (if applicable)
Details of the machinery and equipment used
Photo ID and address proof of the applicant
Proof of possession of the premises (ownership or rental/lease agreement)
NOC from the Municipality or local body (if applicable)
Certificate of incorporation (for companies)
Analysis report of water (in case of manufacturing and processing units)
Source of milk or procurement plan for milk-based units
3. Online application: Visit the FSSAI's official website and create an account. Fill out the Central License application form (Form B) and upload all the required documents.
4. Inspection: After submitting the application, the FSSAI authorities will conduct an inspection of your food premises. The inspection is done by a designated food safety officer to verify whether your business complies with the relevant food safety and hygiene standards.
5. Processing time: The processing time for obtaining the Central License can vary, but it usually takes a few weeks to a few months, depending on the completeness of the application and the workload of the FSSAI officials.
6. License fee: Pay the required fee for the Central License. The fee may vary depending on the nature and scale of the food business.
7. License issuance: If your application and premises meet all the necessary requirements, you will receive the Central License from the FSSAI.
FAQS
Q.1 What is an FSSAI Central License?
Ans: An FSSAI Central License is a mandatory food safety permit for large-scale food businesses in India.
Q.2. Who needs an FSSAI Central License?
Ans: Food businesses involved in specific categories or with a large-scale operation require an FSSAI Central License.
Q.3. How to apply for an FSSAI Central License?
Ans: Apply online through the FSSAI website, submit required documents, and undergo an inspection.
Q.4. What are the documents needed for the application?
Ans: Form B, layout plan, director/partner details, food safety management plan, and more.
Q.5. What is the processing time for the license?
Ans: It may take several weeks to months for the FSSAI to process the Central License application.
Q.6. Is an inspection required?
Ans: Yes, an inspection of the food premises is conducted by a food safety officer.
Q.7. Is the license fee required?
Ans: Yes, applicants need to pay a fee, which varies based on the food business scale.
Q.8. How long is the Central License valid?
Ans: The FSSAI Central License is typically valid for 1 to 5 years, depending on the applicant's preference.
Q.9. Can the Central License be renewed?
Ans: Yes, the license can be renewed by submitting a renewal application before its expiration.
Q.10. Where can I get more information?
Ans: For the latest and detailed information, visit the official FSSAI website or contact their regional offices.